Midcoast Maine lighthouses.
This blog post about adding to the midcoast Maine lighthouse collection, soaking in some coastal harbor life. Have done blog posts before on Maine lighthouses. Over sixty of them to collect and add to the lighthouse photo collections like coins you fit into the currency slots in the tri-fold blue holders. With over five dozen Maine lighthouses, it may take a lifetime to hunt down and capture the all on still film or digital video.
Watch this Mid Coast Maine Harbor Lighthouse Cruise Video.
Winter Maine lighthouse photos are even more memorable when focusing and changing f-stops, exposure settings when you can see your breath.
And your fingers tingle and your perch to shoot from is icy or snow covered. No problem with black flies or mosquitoes though in the dead of Maine winter solitude. Save your sunscreen too as you zip up the parka after you tuck in the wool scarf. This blog post designed to be helpful, to give you fresh content and leave you fed with more community flavor of Maine leaving then you had entering.
Not many tourists around the Maine lighthouses when white stuff is in the air or piling up on the ground.
Vacations during COVID19 are way closer to home now but being in Maine never makes a person feel stuck for travel. The circles you travel are safer, smaller, closer to home during the Coronavirus pandemic. But I can not think of a better place than Maine to be with or without the COVID19 spell that has transformed life as we know it today. We adapt quicker to set backs and work arounds in Maine due to the take nothing for granted with a stay positive approach to our day to day living.
I have blogged about Maine lighthouses before several times.
Even ones across the International border into Canadian provinces. The life of someone living in a lighthouse carries a lot of mystic and sea shore history no matter where it is located on the blue and green marble. Lighthouses make you think of the keeper who tends it. But also the naval boat transportation going back and forth around it out on the open water loaded with navigation perils. The reason the lighthouse is located where it is to protect the mariner fisherman, pleasure boats and anything that floats for a boat.
The lighthouse no matter where it is a personal passion and each if different for the take away experience.
Visit the same lighthouse but try not just summer and give the other seasons a chance. What a difference colorful leaves, white snow or the greenery make to the same Maine lighthouse visit.
We are lucky to live in Maine where social distancing is much easier due to our sparse population.
Less out of state or country tourists, no cruise ships of passengers crowding down the gang plank these days in the Vacationland called Maine. This past weekend Meg and I used Ocean Point Inn as the discovery point for mid coast Maine. This Me In Maine blog is a hungry child. The blog posts don't write themselves and need new eye candy, more hunt and peck about new uncovered areas of the state. So lighthouses in Maine around the Boothbay region collected over the weekend to share with you on a blog post today. Take a gander of a few to relish and enjoy. Here is Perkins Island lighthouse located near the coastal town of Georgetown, Maine.
The Kennebec River lighthouse tour promised up to seven of Maine's finest. East Boothbay Harbor like other small Maine harbor towns quickly adjusted in creative ways to offer safe vacation packages. Everyone wears a mask. No one is crowded in tightly. There is a common sense system in place. Besides plexiglass barriers and hand sanitizers and latex glove stations everywhere you turn, people respect your space. You do the same in return. Here are some more Maine lighthouse images.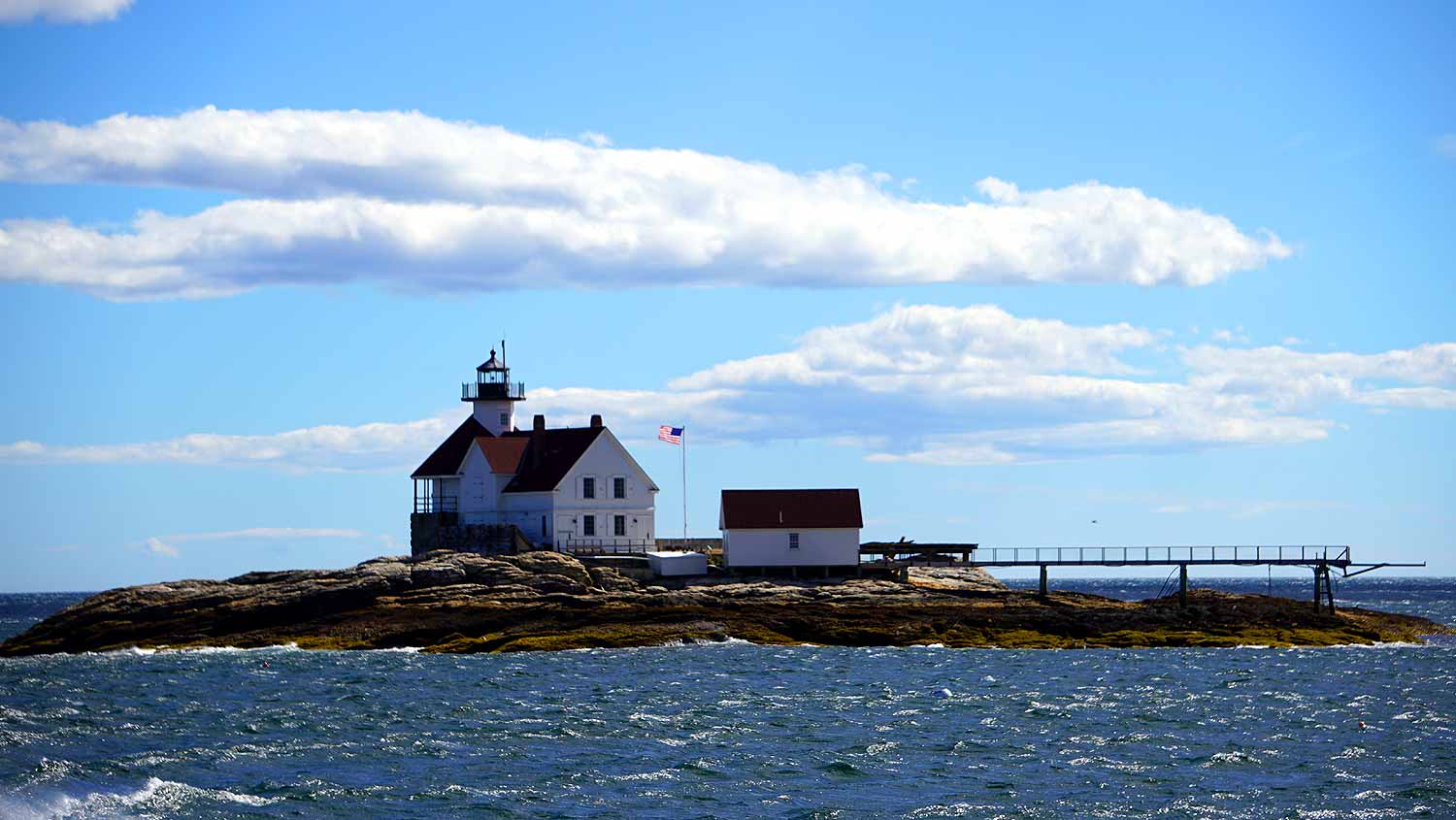 Where we stayed in East Boothbay At The Ocean Point Inn was staffed by a dozen hard working, friendly trained professionals from Jamaican heritage.
It reminded me of a cruise ship's International feel because folks from all parts of the World on a big boat are your vacation partners.Rain on Saturday so we zipped over to LL Bean which limited shoppers inside the mother store to just 275 people. The lady with the clicker says hold it, wait on the six foot spacing symbol until someone comes out so you can enter please.
Even without safety barriers, we were brought up in Maine to give other space long before COVID19 arrived.
Manners a big part of it and respect for other's space is easier when your state's population is sparse. Our geographic location this far north helps keep the crowds of tourist in easy does it.
With new rain coats, the under layers to brace some coastal winds, Meg and I were ready for Sunday's cruise up the Kennebec River. The Maine coast line is like a worn out flag fabric. Broken, uneven, jagged and trailing off into the sea. We climbed aboard Cap'n Fish's big sight seeing boat tour shortly after it floated into its berth at pier eight in Boothbay Harbor Maine. We were hunting for lighthouses, not whales this trip for a spin around the mid coast section of Maine.
The peninsular fingers or Maine land mass that jut out into the Atlantic Ocean where lighthouses live.
Each bony finger of land mass trails off from the Maine land heading toward over coastal 3000 islands. Those usually down a hill into a Maine harbor communities that are only connected by a water highway to those island jewels are vacation destinations that take eat up time. To wind and weave around twisting up and down narrow highways to access. Most not right off an Interstate 95 exit and not quick to access the further north you push up into the heartland of Maine.
On a map a tourist could think let's hit a buffet style of several small Maine Harbor towns on each vacation trip.
Not on land you don't behind the wheel using two, three or four wheels. The travel inland and then back out to sea a little south or north or east of where you start out takes time. Only so much daylight to waste. More precious vacation time chewed up when the weather is not just blue skies and sunshine simple. So plan that your coastal vacations in Maine will be one of many taken over your lifetime.
To see more mid coast Maine lighthouses among the islands and along the shoreline means park your car.
Find a gang plank. Grab the pair of rails and climb aboard. Climb aboard a boat. Because accessing more than one lighthouse, seeing the sights of more than one island or harbor town in Maine can happen with ease. Your highway is marked by green, red floating buoy channel markers. Watch out for the lobster pots of many colors along the way to whatever the four color tourism brochure promises.
Vacationing along the coast of Maine.
Maine lighthouses are great bait that always catch a person's interest. Make your target stop long enough to savor what each area offers that you don't want to miss. And stay loose because the weather patterns in Maine are never predictable or boring. Change is a constant way of life in your Maine outdoor plans during both during work or on vacations.
What other mid coast Maine light houses did we see?
Let me show them to you, the new ones and different angles on old ones in the Maine lighthouse collection. That's fodder for a future Maine blog post edition. Okay, you want more. Just one more Maine lighthouse.  Two small twin ones. Doubling Point Lighthouse.
Also saw a house on the coast of Maine where the Wicked Witch of the West spent her leisure time when the broom was turned off and propped in the corner.
She also was known for her coffee commercials. Margaret Hamilton AKA Elmira Gulch AKA WW of the West took her vacations in this red house with the American flag. The one flying in late afternoon we shot a picture of on the way by during our wrap up of the Maine sea cruise.
Vacations, short ones can happen when you live in Maine and are only a few hours away or closer to the peaceful places that enrich your life.
Hope the images from mid coast Maine lighthouses added to the collection and other coast captures planted into this blog post were a worthwhile experience. People are busy and something worthwhile when you take the time to stop by to read a Maine blog post is what all of us are after right? Fresh content on everything, anything Maine is the hungry beast this blog has grown to become. Thank you for following our post.
Let's face it, there are lots of areas in Maine to love and return to through out the year.
Many who make these familiar haunts in Maine a regular visit end up relocating to them full time.
Like the snow birds who flock to Florida or southern points to be free of snow shovel use, vacationers check out Maine the same way. You might discover a location in Maine that appeals to you because a friend already hangs out there. And they invited you to try it, you might like it too.
Maine's mountain hiking and skiing or snow sledding trails are pretty vast and memorable vacation backdrops. The interior farms and lumbering enterprises are a big part of Maine's heritage too. But coastal water where lobster hide, salty sea breezes and schooner ships gliding by Maine lighthouses are quite the memorable experience for all of us.
Thank you for sampling this part of Maine, around the Boothbay Harbor area like we did last weekend.
Hope the mid coast Maine lighthouse images, other photos from this region of Vacationland were enjoyed.
Taking them and writing about the experience sure was. The shoulder seasons are the best time to experience Maine. COVID19 just made the spacing even better for a tourist looking to avoid crowds to hog the surroundings without having to share any.
Everyone needs a vacation and putting them off too long during COVID19 makes a person edgy.
Maine has safe sensible vacation options to rest and relax but at the same time being very careful. To not spread or contract the Coronavirus to others or catch it ourselves. Thank you for staying aboard this long on our mid coast Maine lighthouse tour blog post.
207.532.6573 |  info@mooersrealty.com  | 
MOOERS REALTY 69 North ST Houlton ME 04730 USA