Haystack Mountain, a 1142′ high elevation 4 miles west of Mapleton Maine is a great early climb for a family.
The picnic area across the Route 163 west of Presque Isle Maine is the location of Haystack Mountain in Aroostook County . Haystack Mountain a great place south of the junior climb. To prepare for or to lunch at after the short hike. Plenty of parking at the trail head staging area too on Haystack Mountain. Haystack Mountain from the road on the approach can make you gulp. All these Maine potato fields, thousands of acres of woods and then here rises Haystack Mountain like a terrain sore thumb.
The trail up Haystack Mountain is moderately easy.
To complete for the youngest hiker in the family to feel satisfaction that something looking that big from the road I conquered. Hit the summit and then feel the breeze. To gawk in all directions at the Great North Woods of Aroostook County Maine. Haystack Mountain is a rest stop, was used to be an eagle eye land perch for fire watches.
With your encouragement,  just a little help, the whipper snappers hike up the trail too. About 75% up the path, the Haystack Mountain trail veers left and the shorter members of the family will feel they earned the topside view that's coming. Haystack Mountain is just off RT 227, about 10 miles west of Presque Isle, five miles from Mapleton in Castle Hill.
To scale, get to the rock outcropping at the top. That offers tremendous views of the rolling Aroostook County landscape.
Of trees, lakes, just miles and miles of countryside loaded with wildlife. Just one mountain, that's all she wrote and it's Haystack. Not so many people. Have a seat, peer around you and bask in the beauty of this junior climb in Aroostook County Maine.
Another less challenging climb if a family of all ages is looking for a hike with a view in Maine is Horse Mountain.
Horse Mountain is located at Baxter State Park. And, like Haystack, Horse Mountain is another under the 1600′ high variety. Like Haystack, Horse Mountain gives a feeling of success to the junior hikers. That work hard to follow the blue marker dashes painted on the rocks. Not knowing what is ahead the first time with trees helping guide them to the peak. Get the little ones started early if you want them to have the hiking bug for life. I love it because my parents exposed the four boys in my family to the love of the outdoor recreation. Picnics, hiking, swimming, fishing, camping in Maine. All this beauty makes you feel spoiled living in Maine full time. Not having to be satisfied with only one long weekend or measly seven day vacation a year.
Then that's all she wrote when made to wait until next year for more. That is the biggest reason why I don't live outside of Maine, Vacationland.
Horse Mountain provides the tremendous views that take a little less effort to achieve which is important to start the life long passion of hiking, climbing Maine elevations.
The fresh air, snack of trail mix along the hike and lunch on top while taking in the panoramic views hits the soul.
Creates a peace that happens a lot in Maine and that is hard to describe to someone who has never been here.
But the satisfaction becomes a tradition to revisit to enjoy for a lifetime. Adding to the trail hiking, the mountain climbing family fun collection of images captured up top. Those photos of Maine's outdoor beauty taken along the way remind everyone to get outside. Hop off the couch and turn off the device that robs and consumes your life. Haystack Mountain in Castle Hill Aroostook County is pet friendly. Just police your pet like your kids for others on the trail.
Hiking the same hill or mountain top because you had so much fun the last time or two. Or adding to your list of Maine hiking / climbing adventures. As the age of the family members goes up for safety sake.
Pack a lunch, some gorp, plenty of water, a little bug dope or sun screen for the Haystack hike.
Lace up your hiking boots. Expect blistering sun, cool temperatures or intermittent showers. Maine weather is never boring or predictable. Where's your walking stick for the climb? Study your map and stay on the trail.
In winter, the venues to climb that are open mean strap on snow shoes for a completely different take on the elevation climb.
Maine is pure and natural.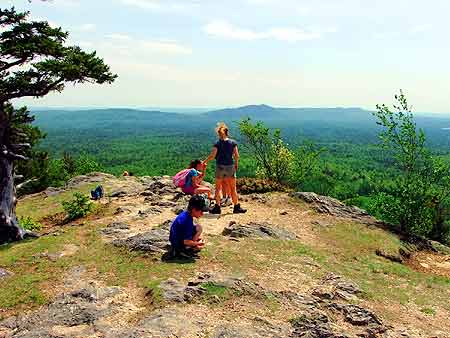 The place to visit for a two nation vacation with Atlantic Canada. You can hop back and forth and tap into lots of low or no cost fun outdoor options ideal for family entertainment. We all could use the exercise and you communicate as you hike, bike, climb, ski, boat, fish, whatever aerobic activity.
We are outdoors year round. Just adjusting the wardrobe a tad to tie in with the up or down Maine temperatures.
Low cost vacations in Maine usually mean camping, cooking outdoors. Sleeping under the stars. Using Mother Nature's living room of lush green, other colors all depends on the time of year.
Whatever the season you decide to roll into Maine's vast outdoor playground that's trips the five senses. Turn up the volume of what is going on inside. You can process and sort out your life easiest when you outside exploring in Maine. Get excited, find your center. Hear yourself think in the wide open vast expanse of Maine.
Surrounded, wrapped around by the wilderness of Maine.
That clean, crisp, fresh outdoor setting requires respect, good stewardship. Adopting the carry in / carry out mentality. One of tread lightly. To protect and preserve for the next Maine outdoor visit for you and others practicing the same attitude. Teaching the generation ahead to approach all you do in Maine with an "easy does it"respectful approach. That's my legacy passed on from the generation before me.
Another less hassle, Maine day trip for something to do suggestion?
In Southern Aroostook County visit Hastings Falls.
The video for one trip of many to Hastings Falls in Merrill Maine.
Outdoors, we want to spend our life there when lucky to live in Maine full time.
The weekend of the climb to the top of Haystack Mountain lead to a drive up into the St John River Valley. That's a blog post for another installment of the Me In Maine collection to share. Haystack Mountain is  an enjoyable easy climb. You will enjoy the circle trip around Northern "Crown of Maine". Stopping off at Grandma's home in Westfield Maine for a visit happens our last visit. To enjoy a hug. The ending of another day living in Maine, the way life should be.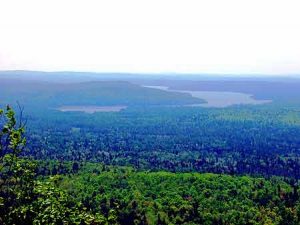 Check out Quaggy Joe Mountain near Echo Lake at Aroostook State Park South and off RT 1 in Presque Isle.
Aroostook State Park was Maine's first. Loose rocks, some leaves and careful attention to the trail makes Quaggy Joe fun but requires caution to avoid injury. Slow down, be careful, there's plenty of daylight to waste to keep everyone together on the trail and safe.
Just had to suggest another smaller but challenging family hiking climb up where the air is clean, the views are amazing. Are you ready or have you done it? Thank you today for joining us in the hike up Haystack Mountain in Aroostook County's Castle Hill Maine.
I'm Maine REALTOR Andrew Mooers, ME Broker
207.532.6573 | info@mooersrealty.com  |
MOOERS REALTY 69 North ST Houlton Maine 04730 USA