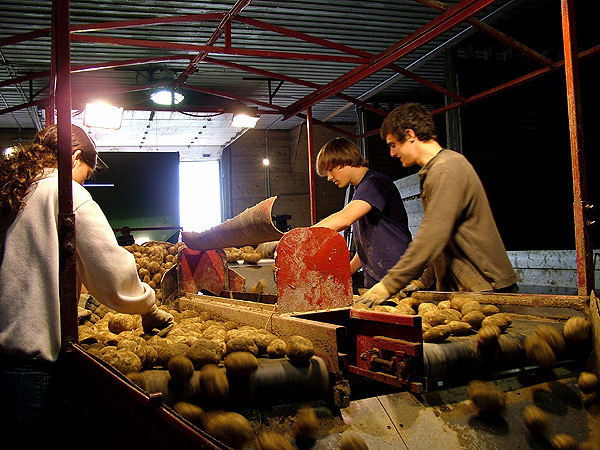 A rural state like Maine has four regularly played face cards that keep Vacationland industrious, humming.
The basics… raising food, harvesting timber in our 91 percent wooded lands, fishing off the sea coast and promoting our four season recreational tourism options.
This time of year getting up before 5AM has been a ritural for the Northern Maine potato harvest. All the planting, cultivating and hoeing, and now harvest of the golden spuds to get them in to winter storage happens in Aroostook County. My four children all took part in the harvest operations and learned much from the experience in the fields, in the potato house and on the harvesters. Manual labor, hard work, aware of the outdoors, the weather changes. Living off grid, raising your own Maine food, being self sufficient is a lifestyle for many too.
A bulk body truck filled to the brim with new, freshly dug Maine potatoes squeaks by me in my real job as a real estate broker.
I wonder who's truck that is, which farming operation it is hauling from field to storage facility.
The older farm trucks with less than 7000 miles on them even though they are 1972 and earlier. Because they only get used for three weeks of the year. Only go a few miles in each direction from the machine shed to the fields, to the potato house and back small triangle.
I grew up on a Northern Maine potato farm and remember my Mom counting tickets. The supper dishes cleared, newspapers put down on the kitchen table to tally up the dusty cans of tickets representing the number of the picker. And how well they did today on their field sections in the four baskets to a barrel operation.
When you work the Northern Maine potato harvest as a child on up, this time of year feels special. Like returning to a familiar place and knowing the area Maine potato farmer needs your help.
It makes kids responsible, feel part of the harvest where area schools go in early, then recess to help the farmer harvest the latest Maine potato crop.
The same ritual, outdoor experience happens as other Maine crops like blueberries get raked, harvested. Or apples picked right on time when the annual season rolls around again like clock work.
Come north to see a Maine potato farm operation, visit the Southern Aroostook Agricultural Museum on Rt 1 in Littleton ME. The spud harvest is part of the Maine heritage that makes the state great. That creates, shapes the work ethic Mainers are known for as they join, then excel through the ranks of the employed inside, outside Vacationland. Maine, thirsty, hungry for more? Get here quick as you can.
I'm Maine Real Estate Broker Andrew Mooers
207.532.6573
info@mooersrealty.com