Refrigeration in early Maine living was not so hard to accomplish during the winter months.
But the rest of the year it became increasingly difficult to live without cold storage or the benefits of ice. Like the value of the root cellars for crop storage. Once early settlers of Maine got used to the benefits of refrigeration, what's for dinner changed beyond just what was in season gleaned from the fields or on the hoof raised in the pasture. Harvesting ice gave a job for dirt farmers before electrical power lines were strung up on poles and compressors in homes could artificially do what Jack Frost had mastered so well naturally outside the early Maine housing.
Cutting, harvesting, storing ice in Maine was a form of farming.
A dangerous operation because if you fell in the drink, that could be your last day cutting large blocks of ice. With wind chills blowing down across a Northern Maine lake and temperatures hovering just above or diving below zero on the temperature readings in the glass tube of mercury. No matter how many layers of clothes, like winter lobstering, net dragging for the denizen of the deep way off the coast of Maine where you lose sight of dry land. The cotton, wool, gortex whatever you are wearing loses any form of protection when you find yourself submerged, under water during a Maine winter.
You could parish by the time help arrived to fish you out of the water to remove frozen clothes, get you near a kitchen wood cook stove or living room fireplace or parlor heater. To warm your bones.
If suddenly you found yourself taking a winter swim and flailing your arms and legs for all you are worth to try to climb out and escape the grips of hypothermia. From the bone chilling deadly spell caused at the scene of ice cutting in Maine years ago on the pond river, lake where the ice was sliced, diced and tonged out of the frozen water. Ice harvesting was big business and employed many, involved boats, trains and large shipments Worldwide. In its peak, 25,000 folks from the Kennebec River area of Maine were harvesting from the ice fields in Vacationland.
More early Maine imagery of harvesting ice as a commodity, the process of cutting, stacking, storing it that involved horses, manpower too. A 1919 amateur ice cutting video that shows how labor intensive the process of harvesting frozen water really was.
On a farm in Maine I grew up on, one of the many buildings surrounding the homestead and big center stone crown jewel of a barn, there was the well house.
That the south two thirds sat over the primary well that supplied the farm's water needs in the house, for the animals in the barn. The north third of the cedar shingled cape style building with overhead storage was called the ice house. Before my time as a young grasshopper to see this area used for it's original purpose, but I was told how it got it's name. Why my kids know that section as "the ice house" even though we don't saw our natural ice in the 12″ x 12″ x 36″ cakes.
Hefting 100 pounds of solid eye with ice tongs much like hanging freshly sewed top burlap sacks of potatoes of the identical weight.
Using some of the same muscles as you heave ho the cargo into place up and into a loading ramp from potato house loosely connected to the steel wheel container.  Filling a rail road car destined for a far away market where lakes do not freeze a couple feet deep or more on the surface. Where cars and trucks drive out to ice shacks fishing through holes for something fresh and tasty.
Northern climates were important sources of huge blocks of ice weighing up to 300 pounds and the industry appeared in the top ten list of largest businesses in our country at one time.
Ice men delivered blocks up to three times a week in many markets. Starting in December and ending in late March, ice cutting in Maine was a short season. But was extra money for farmers and their field hands needing to kill time between shipping the crop out and waiting for spring planting. In later years small gasoline motors with saws were added to the use of horses to manufacture more ice to meet the demand. Clear colored ice just like diamonds and rare jewels fetched the best price from consumers of the shaved, careful handled cakes.
Learned about the dark, falling a long way but coming out unharmed one day at around five years of age while following my three older brothers as they went in and out of the farm building called the "ice house" while cleaning out it's lower level.
While I ventured upstairs to see what I was missing, and just exploring I lost track of the brothers who left the building for a time. And before I knew it,  found myself dropping through an open space in the floorboards like a three stooges or cartoon move. And landing square inside a solitary round cedar stave potato barrel positioned in the center of the dirt floored lower level. In a building section that had no windows, no lights on that was as the Maine expression goes, darker than the inside of a cow.
I hollered at the top of my lungs, my brothers came to the rescue by turning the circle of metal antique door handle to the ice house portion of the building where I was very lucky to have bull's eyed from above into the one and only lone barrel parked underneath my descent. Thankfully missing the sides of that barrel, doing a peter pan standing up without straddling it and causing serious problems in advancing the family DNA later in life with kid's of my own. And having to adjust to a voice about the same range and octave as Mickey Mouse.
The ice house section of the building on the Maine farm had no windows, utilized saw dust used to pack the big, heavy blocks of ice stacked wall to wall, earth floor to ceiling.
That created a frozen vault to draw from through out the year. Or as long as the ice harvested in winter hung out. At about the same time, a building in downtown Houlton Maine on Bangor Street that in later years was a dry cleaners, the cork insulated brick building was originally built to be a community freezer. To draw from like a bank for your family's frozen food selections to prepare for when the dinner bell sounded.
I was reading in a book on the history of Hodgdon Maine about my grandfather Shirley Benn losing a horse in one winter ice harvest on Mill Pond. And how one cent would buy a 100 pound block of ice harvested from the sheet of frozen water that forms. Originally cut with a saw, and for a time a specially designed iron plow that did not work so well. The ice blocks harvested from grid lines sketched on the thick, solid sheets of ice over our Northern Maine lakes, rivers, ponds was hard, dangerous work because of harsh temperatures that caused the ice to form like clock work each year at certain places on the yearly calendar.
Commercially made ice causes pollution, while natural ice is created from a few cold nights in Maine. And the outdoor ice with community effort with your neighbors shakes off the cabin fever from being holed up. Ice cutting parties are environmentally friendly. Often 30 to 40% of the ice melts pre-maturely and perfecting the insulation of the storage and other factors add to lessening the learning curve and improve.
When my Dad returned from the service across the pond after World War Two, he and Mom lived in Bangor Maine while resuming the college education interrupted by Uncle Sam's tap on the shoulder telling him he was needed elsewhere as a tail gunner in a B-24. Dad would talk about putting ice in the top of the refrigerator and the next morning getting wet feet because the melting block sometimes overflowed its storage housing. Today we flick a switch, have indoor ice makers to tap into with filtered cold water to stay hydrated.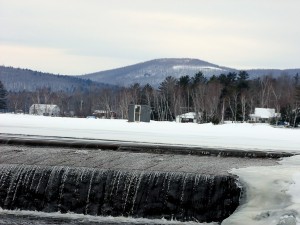 The local Amish settlements in Maine use large blocks of ice for refrigeration. And while clearing off a lake cottage roof this past weekend to remove the thick blanket of snow before sleet and rain arrived in the forecast to make it tremendously heavy, I counted three ice shacks. Looking out over as the afternoon sun dipped lower and snow sleds in packs buzzed by on the ITS trail.
Winter is a peaceful time, there is solitude and the pace is different when Mother Nature wears white than when the green of a million shades and hues covers the Maine landscape. Snow insulates, muffles sound and wraps everything in a blanket of fresh layers of flakes which cause us to reach for mittens, shovels, snow skis, hockey sticks, ice fishing shacks and traps.
I will check the local farmers museum in Littleton Maine for ice cutting saws, the pairs of big tongs to wrestle them up and out of the open hole of a lake where big teams of horses stood ready to haul the heavy duty sleighs loaded with giant ice cubes. Shipped to the city, stored away in local ice houses for personal and commercial use. They have some pretty nifty donated farm items used to work the dirt and manage the livestock, the poultry on the local agricultural operations.
Like to see an ice cutting harvest operation in Maine? Mark your calendars, because in East Bristol Maine, February 19th, 2017 you can learn about the practice that was common in Maine until the 1930's. More on the oldest, a step back into history for one ice cutting practice in Maine that still happens and has open display tours if you can fit it in.
I'm Maine REALTOR Andrew Mooers, ME Broker
207.532.6573 | info@mooersrealty.com | 
MOOERS REALTY 69 North Street Houlton Maine 04730 USA