Face to face can't be the only way today's conversation starts.
The happy smile on a text does not mean the sender is not really wearing a frown. As their thumbs rock back and forth or the stylus taps taps on the keyboard of the device they are attached to as they express their thoughts in a condensed, filtered, strained method.
Maine communication, has a different twists because of where it is produced and the all natural pure surroundings.
 If your conversation  other half is eighteen states away or on the other side of "the pond", you are lacking some key ingredients on what to shake and bake.
To send back as the whipped up, rolled out next conversation course conversation tidbit.
I worked in broadcasting before peddling real estate in Maine and not seeing did not mean not knowing what the guy or gal one at a time was needing out in the hinterland.
Or how he or she was reacting to what was being communicated as close to conversation easy as possible.
Like predictive text, this is how you do it during an air shift or newscast was predictive communication where other than a few call ins or today texts, tweets and posts around the social media circle, you just make it interesting. Something worthwhile to follow.
In my job today when it is 10:30 at night and they want to "look" at properties for sale or to learn about the local events surrounding the real estate for the flavor of the corner of the Earth where I hang my hat in Maine, I better have all the "communications" stocked, ready, locked and loaded.
Idling to deliver the message to get them started now, without delay or the actual trip to see you "face to face" to study the expressions and delay and tone of the conversation to shape how it goes next.
Videos, blog posts, image streams all help that connection building and the Maine attitude about we may not know each other but won't stay strangers long and quickly become good friends.
When you visit Maine and are say staying at a wood's lodge in the middle of a T2 R3 type unorganized townships just a dotted line defined on a map six miles by six miles square in Vacationland.
Lots of special interesting things happen.
No people, just your hosts and the other cabin dwellers. The stragglers that come in to dine at meal time on a snow sled, using poles on the cross country ski trail for horsepower. Or angling to fish, itching to hunt for small or large game in Maine.
The sounds are a crackling, warm and inviting crackling lodge fieldstone fireplace. The lodge keeper's dog barking a friendly greeting and hoping you remember him with a tidbit morsel of what you are about to be served from the back kitchen. Sneaking him a sample of really good food in a setting where you would not expect the five stars and over the top.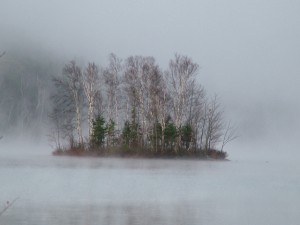 Outside only the hum of the wind vibrating in the pine tree needles is your background with song birds.
No people, but trees. The run away feeling of leaving behind the hustle bustle for some meditation.
Time spent unplugging and recharging next to some waterfront in Maine.
Casual dress with practical warm flannels and stay dry foot and hand wear. Simple living in the Maine woods. Your communication is with yourself more and others less.
Inside discussions and pondering the life turns you already made, the ones at present to consider and making sure not to get too far ahead of yourself on the trail.
Your internet connection is down and spotty. But it feels good after the initial shock of what if some loved one could not instantly ask what you are doing. And you learn they are board. Wonderful.
The active listening when there are no people or just a handful of old souls makes for deeper understanding in the communication out in the Maine woods camp.
Distraction and multi tasking not taking their toll in interrupting the quality of the talk. The glean to take away much to apply to the richness of how we live in Maine.
For years used to take a snow sledding trip sporting lodge jaunt with just the guys at Bowlin Pond Camps in T5 R8. And had the fortune of dining with two couples at the Mt Chase Lodge last night that made me realize the wonder of the woods. All located under radar just north of Patten Maine. One more facet of Vacationland.
Excellent food, thirty four other diners with the bulk from the Natural Resources Council. For a woods powwow retreat to talk shop without the fluorescent lights and sterile office setting.
The card games and 15 -2 for you out in the rental cabins help add the filler in the wood's stop reflection setting in the North Maine woods.
Like slow cooking and not fast food the table talk more than chit chat and filler. Relaxation takes place truly when space is unlimited out in the vast wooded sections of Maine, up in the northern most tip of say a county like Penobscot.
Explore. Find what is here, what is missing inside yourself. Plan your next outing to Maine. She is drop dead gorgeous but for a second even think about keeping her waiting or standing her up. You only hurt, deprive yourself when you do.
I'm Maine REALTOR Andrew Mooers, ME Broker
207.532.6573 | info@mooersrealty.com |
MOOERS REALTY 69 North Street Houlton Maine 04730