The color of the 1970 Dodge Challenger selected, picked from a build sheet option list of light gold, plum crazy purple, sublime green, go-mango orange, hemi-orange, banana yellow, light, bright or dark metallic blue, rallye red, light or dark green metallic, white, black, cream or panther pink.
The car new buyer finishing a tour of duty in the unpopular war in jungles of Vietnam. That took him thirty five years to let go of the lousy home coming reception for his efforts half way around the World.
Where his job was to helicopter out in pitch black nights, repel down a rope, listen for battle field moans of the still alive wounded, bleeding.
Locate, get them in a chair, hooked to a cable and hoisted skyward. What do you do for work and is it something you bring home with you, think about late at night and can not shake so easy?
The Mopar powered 383 cubic inch, 335 horse power four barrel magnum power plant V-8 was supposed to hit the dealership in South Dakota showroom smack dab on Valentine's Day. It ended up missing that birthday delivery by a month. And came with a bottle cap inserted in the rocker panel by someone with a sense of humor. A real tease from the Chrysler factory in Detroit at the end of a production line shift.
When found, isolated and removed the annoying rattling, rocking, rolling around beer cap had the inscription "glad you found it". The car ordered from Vietnam by the solider doing hazard duty daily. Made famous in the movie "Vanishing Point". Where is takes a Mopar to catch a Mopar it seems. The true story told to me out in Colorado Springs by the owner of the Challenger who I bumped into and struck up a conversation. After driving west with my youngest son in a jeep to leave it with him at college and then fly back to Maine.
The Challenger came with almost every Chrysler engine option under the sun.
Designed to compete against the Chevrolet Camaro and Ford Mustang "pony cars". My brothers Jonathan and Brian drove a 1967 high performance 289 V8 Mustang that was springtime yellow with a black vinyl top, dual exhaust, close ratio four speed manual transmission.
Bought by my parents during a better than average Maine potato year as payment for all the work the two boys did on the farm through out their childhood. Not sure how Dad got the bigger power plant by my Mom but maybe hinted it might be trailer hitched, needed to pull farm machinery. Plus Dad got a vicarious thrill taking the Mustang to early morning breakfast at Dana's, the Miss Aroostook Diner or other haunts for a coffee spike. Like other Dad's financing way way too fast, over powered muscle cars.
I remember being a small child in the back seat when an elderly Clyde Warman wandered by mistake over into the Mustang's side of the road. Nimble on pavement with the 289 V8 and four barrel, stick shift but not so steerable as we left the Ludlow Road. Just missing a power pole as the driver's side door was grazed. So was the rear quarter panel. But a head on collision was avoided and the car could be repaired.

Still remember hearing an excited Dad telling Mom riding shot gun that "Weeze.. I don't think he sees me, is not going to get back over on his side of the road in time"!
As we went zig zag north into a potato field. Call a tow truck, head to the car body repair shop. Off to see Frenchie Beaulieu for some new auto parts, fresh paint, a straightening procedure. To remove the new wrinkles added to the curves and original lines punched out by the factory metal press.
Keith back from the Vietnam tour of duty finally with the keys to the new plum crazy purple 1970 Dodge Challenger said heads turned as he idled out of the dealership.
The color, style got attention of folks along the street of his small town. And police too sitting in their cruisers. Getting complaint calls of high speed quarter miles, road races.
Always someone wanting to race, needing to prove ability to getting to higher speeds than you. With seasoned shifting, RPM and wheel handing skill prowess. Faster than all cars in his territory except an American Motors AMX with 390 doctored, enhanced, punched, ported, blue printed and balanced. A not so factory stock standard anymore cubic inch motor screaming, unleashed under the hood.
Law enforcement officials, a judge that literally, actually removed the wheels of the purple colored Challenger and hid them at his farm.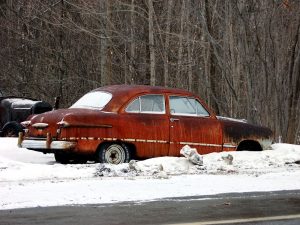 A father too pulling his remaining hair out in the stress of in and out of the court system. All along with the insurance company noticing the ticket count convinced Keith to sell his welcome home from Vietnam grape colored ride. Traded in for a pick up. Sounds like the frustration of the father in "Hot Rod Lincoln". Hum along a few bars. "Son, you're gonna drive me to drinkin' if you don't stop drivin' that hot rod Lincoln".
The car title transferred and keys handed to another with a handshake to seal the deal. With the eventual new owner sliding behind the leather wrapped wheel sadly hitting a ledge outcropping within four weeks of purchase. Pushing the engine back into his lap and killing the car and driver in the process. Out in a plum purple crazy colored blaze of short lived glory.
Less people on the road, cheaper gas, and letting off steam from the turbulent times of the 1960's meant driving on the edge.
Pushing the limits. Maybe believing you with the pedal to the metal were bullet proof. Or trying to run away from something other than just the law setting up speed traps, road blocks. The music scene of the 1960's with wailing Jimi Hendrix "are you experienced" guitar licks and beach rock and CSN& Y harmonies were on the Maine AM broadcasting air waves.
Jimmy Ritchie recalled in Houlton Maine lots of Comet Caliente cars in assorted colors too.
Snookie Bossie had one that was yellow, Dickie Miller one in red, John Botting one he did not drive for fear of being caught that was green, and Bennie Bennett's dark blue horse from the same muscle car stable.
Quarter miles timed, recorded on the Porter Settlement Road. Or coming back the old way from Canada, on the new Interstate 95 first two way lane system were all proving grounds hot spots.
To road test, gain bragging rights. To wear and tear on tires, tie rods, rear ends and drive trains long before the popular "Fast and Furious" movie franchise rolled out on the silver screen. Or made it's numbered series home theatre debut.
Old cars bought late in life to restore happens a lot in small Maine towns.
Re-capturing the past or finally owning a car you wanted in high school but there just was not money to buy. Better late than never and if you want something bad enough. You'll get the keys to the old car in Maine.
MOOERS REALTY 69 North ST Houlton ME 04730 USA