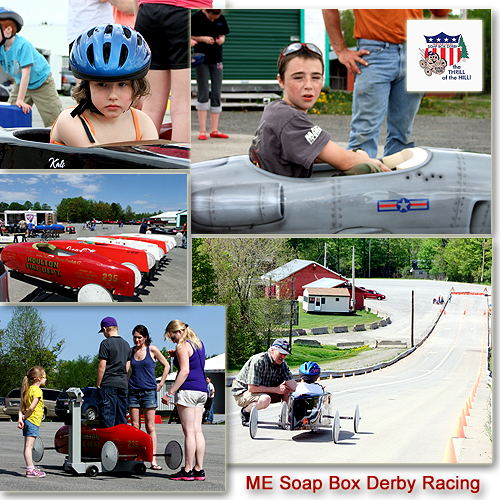 Over seventeen years the Northern Maine Soap Box Derby has grown to the point of hosting the state race.
On an engineered hill designed for safety, speed and ease in setting up the course. For boys and girls from all over Maine now to learn, feel, experience "the thrill of the hill".
Downhill racing with a kit car that the driver with mom, dad, Uncle Bob, or the neighbor kid that is pretty talented with wrenches. Anyone that likes to be around the energy of excited kids. That want to get behind the wheel. To not have to wait until they are sixteen to drive a car.
If you are a business in Maine looking for a good wholesome family sporting event to sponsor a car, speak up.
Raise your hand. Get signed up. Have a contest in your area of Maine to select the driver that wants to represent you in the Maine State Soap Box Derby local race in June. For a chance to win, advance to the world series of downhill soap box derby racing in Akron Ohio in July.
The cars last, get re-raced in other locals and at rallies around the country. To win points to head to Akron Ohio's race course that is every kid's dream. To compete on the world level with the cream of the crop, best of the bunch, pick of the pack car racers. To meet new friends, their families and to compete.
Skills, determination, patience like anything in life you are passionate about needed in derby racing too.
Fire in your belly. Not the kind from food that just does not agree with you. We're talking the spark, magic when the entire family, community is behind and beside you cheering the driver on. As they advance heat after heat in the selection of a winner to represent their local, state on the national level. No matter what the weather, the luck of the heat bracket race pairing or how much time was spent tweaking the stock, super stock or masters race car the nights before the event.
More information about the Maine State Soap Box Derby Program, The Race in Houlton Maine June 22nd, 2013. The sound of cars being released Topside on the long, smooth, fast Derby Hill race course, the rumble of the wheels and another season is approaching.
Watch a few Maine Soap Box Derby racing videos.
Maine, kids count, family comes first. Our enjoyment is always somehow generated with the excitement, energy of our youth in Maine. The neat place with the space and the way life should be. Learn more about Maine. Come visit, sample down to Earth simple, real, healthy, fun.
I'm Andrew Mooers, ME Real Estate Broker / REALTOR
207.532.6573
info@mooersrealty.com