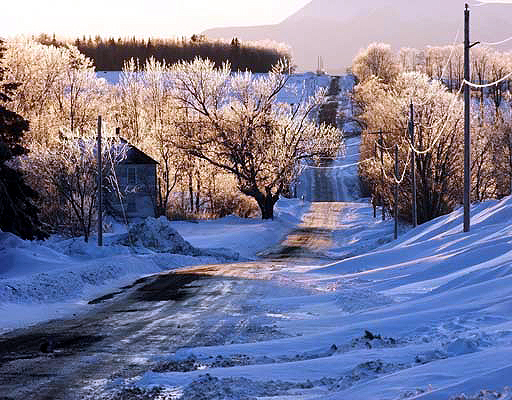 To pre buy or not pre buy Maine home heating oil, that is the quandry, question.
I usually do but as you wheel and deal and add in the quarter per gallon to follow the price of Maine home heating oil down if it drops, you have to scratch your head.
On the one hand, it is a safe, secure, yes "warm" feeling that there. My house is going to be toasty warm this winter in Maine.
My family is not going to have to wear snow suits inside to watch "Wheel of Fortune" and reruns of Law and Order. (Dum Dum sound)
Once you pre buy, lock in you stop thinking about Maine home heating oil prices because you have that winter concern all nice and tidy, squared away. But in my travels with a fellow that owns a heating oil company in the Bethel Maine area, he pointed our while showing him Maine farms last week something to consider.
Over the last eight of ten years, Maine winter heating seasons, the guys and gals that did pre buy came out behind the curve.
Lost on money on what they negotiated for but ended up with when the final home heating oil numbers were in. The price of oil last March was lower than mid summer, the traditional bottom of the barrel cost time for number two Maine heating oil. He says there is a glut of oil currently. Consumption is down.
So he has me thinking. And usually before June wraps up I have the home heating oil puzzle all figured out, put to bed for the upcoming Maine winter. But not this year. I have dawdled, dragged my feet on the pre buying oil exercise. How about you? Or do you heat with wood, the special cut log pieces or in the bag, pellet size? Here are at least 50 ways to modify habits, cut your love for heating oil consumption routine.
Have heated exclusively with wood in the 1980's with a home wood furnace but not ready to add that option to the current Maine home I raise a family in. So the focus always comes back to in addition to buying the lowest priced heating oil, to make sure the home you are heating is as tight, buttoned up as you can.
Using less oil, but being comfortable and getting a deal on the cost of it is always a topic of conversation among Mainers due to our location up here in the right hand corner of the country. Parked pretty cozy to the New Brunswick and Quebec Canadian provinces.
But I have found like fishing stories, vast exaggerations on the actual per gallon price of Maine home heating oil that individuals say they pay and actually do.
It seems everyone wants to hit a home run on the bottom line price they pay for Maine home heating oil. But the fact remains Maine oil consumption has fallen by more than a third in the last five years as conservation measures get brought on line to reduce the dependency on the black gold that oozes from the ground in some places on the planet.
I'm Maine Real Estate Broker Andrew Mooers, ME REALTOR
207.532.6573
info@mooersrealty.com