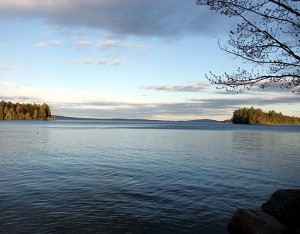 The days of firing up the bulldozer, backhoe or excavator to remove rocks along a Maine lake, other waterfront property are long gone.
Not without a permit and showing you are improving an existing situation, waterfront development and restoration is a process where there has to be good intent. To protect the resource that man messes up when too many individuals crowd around a precious resource like the Maine ocean, a lake, river, stream or pond.
We all want waterfront. To spend time on the water, beside it and reflecting, enjoying the four seasons of Maine. But if the animals, wildlife, fish could talk, they would say loud and clear that man messes it up. Clearing 30% of your lot and not changing the landscape in the 100 feet from the edge of that Maine waterfront is the first rule of order.
Crew cutting the Maine waterfront land, putting in a long lush green lawn that would rival that of a top shelf golf course is not making the wildlife, local population happy.
Keep it pristine, plant trees, not remove them. Think roadways that cause further soil erosion and sediment in the lake that makes it hard to breath, see if you are a fish or swimmer yourself. Consider giving the lake to your kids in better shape than you receive it. Think watershed, a lumber, timber cutting operation miles and miles away that dump soil, nutrients in to that body of water you enjoy so much.
Building driveways at an angle, or with a landing above the cottage you intend to build to avoid runoff is the lot is sloped, tilted toward the waterway. Piles of topsoil when it rains hard just wash and blow into the lake and muddy things up, literally. For more on soil erosion protection of a Maine lake study up on how to protect the water resource before it is lost, visit the ME DEP shoreland zoning website. This shoreland zoning for Maine property owners flyer is also filled with the good stuff. Owning Maine waterfront is a partnership with that waterfront, the wildlife.
I'm Maine REALTOR Andrew Mooers
207.532.6573
info@mooersrealty.com