Ice cream in Maine.
The Maine weather forecast of blue skies and soaring temperatures makes folks vocal. Year round the weather consumes a big part of local conversations. Most Mainers are outdoors more than they are inside is part of it. Plus the local weather forecast is pretty important to everyone from the farmer to a plane pilot. For anyone planning for an outdoor event like a wedding, family reunion or even a funeral that's success revolves around the Maine weather forecast.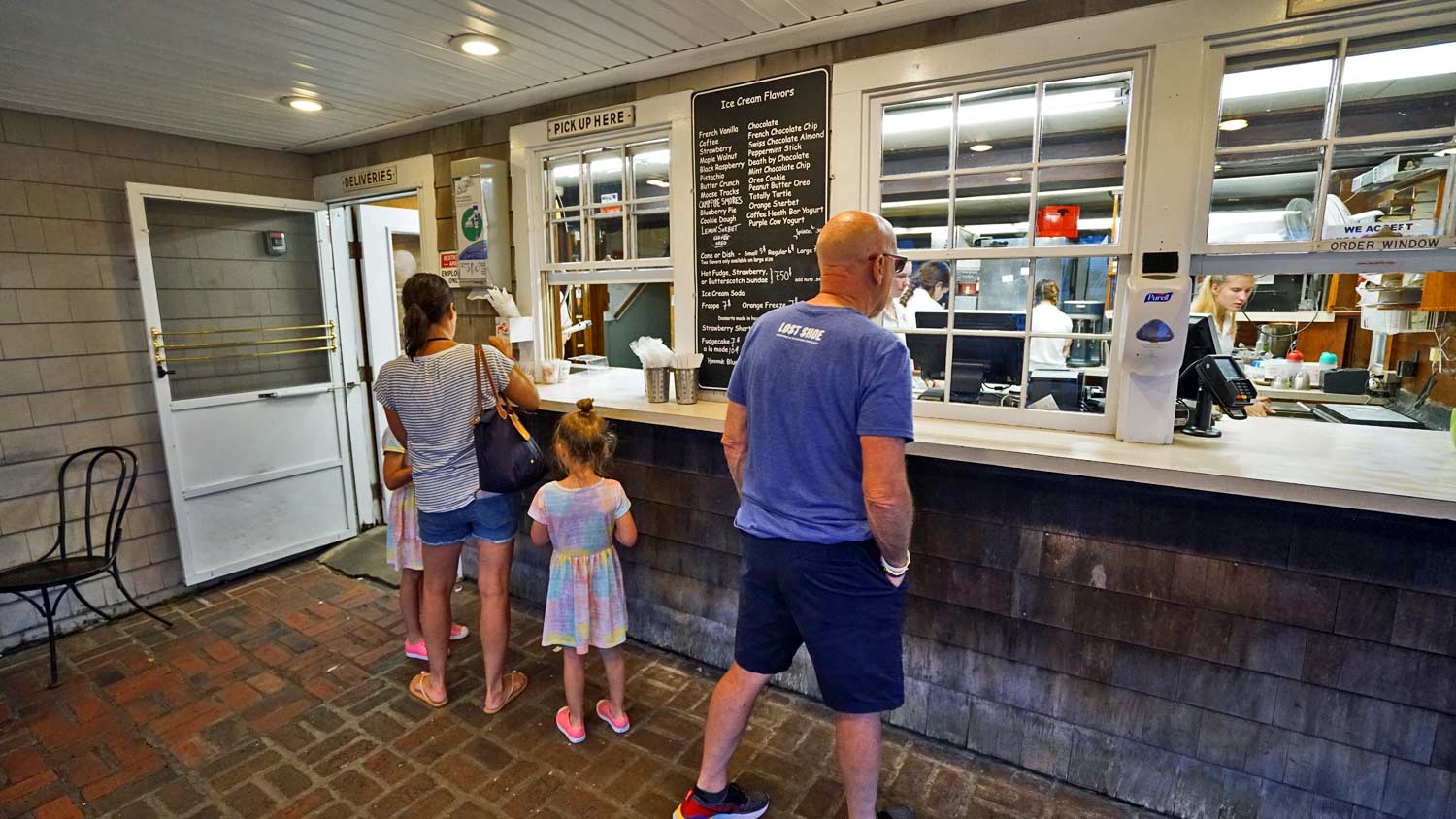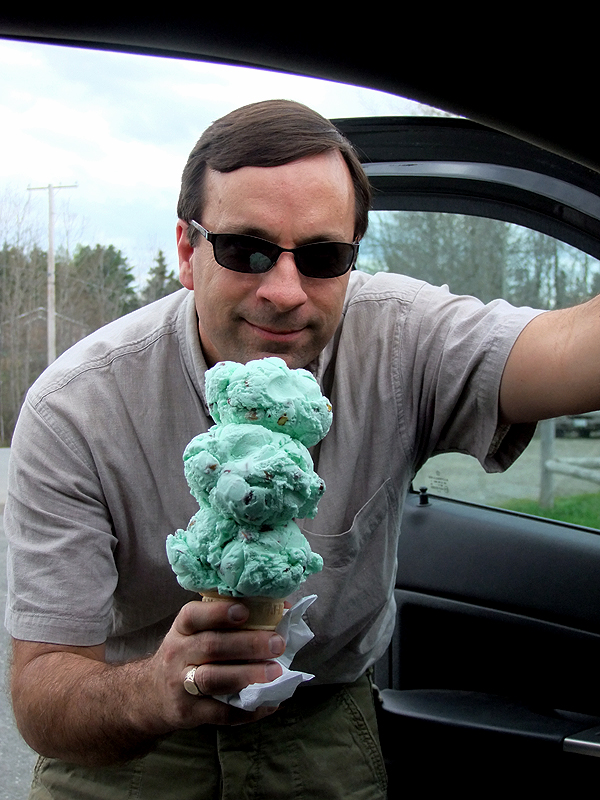 But summer weather when temperatures soar and the humidity index is sky high, time to beat feet for a Maine ice cream dairy bar treat.
We don't do humid heat well in Maine but adjust just fine to winter cooler temperatures just fine. But when it is hot. They say everyone screams for ice cream. And stocking the blog post shelves
with regular installments takes some head scratching to avoid brain freeze.
So why not some images to avoid the wall of words to talk about ice cream in Maine?
Young and old, everyone in the middle knows the small pleasure of ice cream in Maine. Growing up, my parents both taught us the skill of making ice cream. It was not open the grocery store cooler door to reach in for something cold and tasty. Or lift the lid to reach down to fish out something from the chest freezer cool and creamy.
Oh sure, we had ice cream that was store bought.
But there was also a hand crank home made ice cream maker in our Maine farm house. To whip out, dust off and to make home made ice cream. Making ice cream where everyone has a turn at the churn to give the cylinder a crank or two. Is a motorized ice cream maker cheating?
Does the make ice cream from scratch and the fruit of your own labor improve the taste?
No pain, no gain.
Thank you ice cream maker inventor Nancy Johnson.
Back in 1843 Nancy Johnson patented the process and is to be praised for her improvements to the hand cranked home made method of making ice cream from scratch.
Ice cream, when made from scratch everyone was eating the same flavor.
How do you think that would go over in an age of too many choices, not just one or two standards? 1st World problem, like the TV channel changer where someone laments 300 channels but nothing to worthwhile to watch.
How long does it take to make ice cream the hand crank method?
As a little kid it seems an eon. But the ice cream making research shows you eat about less than a half hour hand cranking steady as she goes. Because once the cylinder containing the frozen ice cream becomes tougher to turn, you have arrived. Ready your cones or line up the dishes for hand made ice cream.
It's not cheating plugging in the electric ice cream maker either.
Instead of hand churning the ice cold favorite flavor of ice cream in Maine, you can rely on the motor. Especially if you are creating more than one kind for the audience where today, everyone is not going to settle for the flavor of the day. The labor of love where lots of people take turns revolving the cylinder packed in ice to create ice cream improves the taste. Also provides a bit of history on how did they did this before power lines ran by your Maine home. The ones needed to tap the juice to improve or some say complicate your life.
What.. what's that you say about if there was no power, how was their ice to create and preserve the cold ice cream treat?
Our farm had an "ice house". It was on the north end of the "well house". The labels help you put two and two together. To figure out just what their purpose was on the homestead. We've blogged about ice harvesting in Maine and my grandfather on my Mom's side, E. Shirley Benn lost one of his best farm horses. It all happened during an ice harvesting mishap down by Mill Pond in Hodgdon, Maine.
Back back to the ice cream in Maine.
When it was hand churned and particular flavors served up in my home during spells of hot humid Maine summer weather.
So what do you need to make ice cream is half and half milk and heavy cream.
Vanilla extract if that's the preferred flavor. Quite a bit of salt… rock salt, table salt, the kind affects the final results. A towel or kitchen oven mitt. A timer or clock to keep tract of the ice cream making operation.
Do you know or can you remember your parents favorite ice cream flavor?
My Mom's was grape nut, Dad's vanilla. Strawberry was a close third because we grew them, threw them into the revolving churn ice cream cylinder to hand crank. Use what you have and it's more than enough thinking is pretty common during a lean farming year on a Maine patch of dirt.
And when the carload of four Mooers' boys would drive into a dairy bar wherever we roamed locally or around Vacationland, those were the flavors they ordered. How about you? Early on the available flavors of Maine ice cream was a shorter list. Less choice, more common requests happened. Cookie dough or heavenly hash, death by chocolate were not on the roster outside a Maine ice cream dairy bar in the 1960's.
Chocolate, vanilla, coffee, strawberry, grape nut were standard offerings you could bet the farm on seeing listed. Somewhere in a poll I read that banana ice cream was a flavor folks loved or shied away from ordering. Another not so popular flavor that I personally like is pistachio ice cream creating the anticipation grin above from your blog post author.
Here's a graph showing the country's most preferred ice cream flavors.
Personally, not so much a fan of butter crunch or anything caramel ice cream.
But if that's all she wrote for what you got, deal me in please. It's cold when it's hot and beggars can't be choosers right? In a recent trip to the Wells Beach Maine area to Barnacle Billy's, the combination of blueberry pie mixed with pistachio was a pleasant twist combination. Now so many choices.
Do you hem and haw but still end up ordering the old standard favorite you developed a sweet tooth fondness for as a kid?
You see banana, the toss up choice if no pistachio flavor did not make the ice cream poll. Chunky Monkey if we're talking Ben and Gerry's ice cream or Cherry Garcia please.
When soft serve came to my small Maine border town, it was the vanilla and chocolate that ruled the day.
Maybe the duet of the two was offered from the Taylor soft serve ice cream making machine. More on how to make ice cream from scratch that's not processed with lots of chemicals or allowed to get freezer burn. Home made ice cream does not linger in a Maine household when the summer temperatures push the thermometer mercury level high.
How to make home made ice cream the old fashion way video.
Today the sky is the limit. Pick a flavor like the colors offered from the rainbow for ice cream choices. Artificial coloring and fake flavor ingredients get infused into the base ice cream frozen paste. But the real deal hard ice cream. Nothing like it when two scoops of ice cold get air lifted down on a piping hot fresh piece of home made pie. Hungry for ice cream yet?
Remember being a kid and the hotter it was the faster you had to lick. To contain the drip as it melted so fast it became obvious to all around you what flavor you just had based on your clothing stains?
Rather have the real deal and hard ice cream thank you very much.
Like micro brews, Maine based ice cream makers are plentiful. The treat of an ice cream in a cone or dish is just part of Maine summer living experience. I know how wonderful a cold ice cream bar tastes after pedaling a bike up Cadillac Mountain at Acadia National Park.
Here's a photo snap on the pedaling up Maine's Cadillac Mountain thinking of the view, the ice cream reward that awaits on top.
Lots of tour buses on top and folks heading to their own private rock to sit and reflect. Gazing out over the ocean and thinking about Maine lobsters or steamed clams in a few hours. After all this ice cream wears off and time to open the pie hole again.
Your Maine setting or back drop is everything pumping up the volume of whatever you lap with your tongue or scoop with your spoon. Ice cream definitely is one of life's small pleasures that everyone can afford. Have you been to your local dairy bar in Maine lately?
What's your favorite flavor of ice cream in Maine?
Whether store bought or uniquely blended by hand crank, ice cream whatever flavor tastes better enjoyed in Maine. With the backdrop scenery second to none. When no people are around to share the eye candy as you slowly enjoy your Maine ice cream.
From the link you will see bacon, eggnog, cotton candy, licorice made the list. Not thinking I would ever order up a scoop or dish of Maine lobster ice cream. But blueberry, Maine blueberry ice cream. Now you are talking. Gifford's has a wild Maine blueberry ice cream flavor that is pretty dang tasty running solo or pair up with a piece of pie.
No ones made strawberry rhubbarb ice cream flavor yet that I know of but ready to stand corrected if someone knows something I have not gotten wind of yet. Wouldn't be the first time.
Sadly, Houlton Farms Dairy which is huge in Aroostook County is not on the state of Maine map. What the heck? Houlton Farms Dairy Bars are a huge draw for folks in Houlton, Presque Isle, Caribou Maine.
My little league team for years had an expense account at Houlton Farms Dairy.
Win or lose, the kids in their uniforms trotted off the baselines away from the ball field dug out to get something cold, sweet. The Mooers Realty coach and his helpers too treated to some local Maine ice cream flavors. Small Maine towns, the ice cream outlets are a big part of the local landscape and were all we had to mingle. Before social media outlets took over for many. Put down the device, turn off the boob tube. You scream, I scream for ice cream.
Ice cream sundaes, milk shakes, banana splits, parfaits.
So many ways to sample your ice cream in Maine. Thank you for following our Me In Maine blog post. This one on ice cream in Maine. There would be less trouble and unrest in the country, the World if we could all sit down and enjoy a bowl or cone of ice cream together right?
I remember being at a Coldplay concert in Manchester, New Hampshire where the audience was promised if they were good and considerate of others, the band would buy everyone a chocolate ice cream. It works on the kids as an incentive to tow the line. A reward of sorts. Here's hoping you visit a local outlet for your own personal favorite flavor of Maine ice cream.
MOOERS REALTY 69 North ST Houlton ME 04730 USA