The quick down and back trip to Bangor Maine when you live in Aroostook County.
Maine is a big state. When you live here, the exploring it in bits and pieces small bites is enjoyable. Living full time based in Northern Maine, taking a little mad dash escape south out of Aroostook County is a treat.
The length of time you are away is not so important. What you do in say Bangor Maine is not either. Could be a sporting event, shopping, picking someone up at the airport, or passing through to points further south. But just a change of scenery and getting on Interstate 95 to head to a little more populated area of Maine does a body and soul good. Small rural Maine living is peaceful but the cobwebs from  house bound cabin fever take their mental toll during the winter months.
Before I-95 was clear cut and the highway added to the landscape, US RT 2A was the "Bangor Road".
You've maybe heard the country classic song about all those truckers buried up in Maine along that cold, lonely stretch of highway through the Haynesville Woods? If you look close, there is a tombstone every mile according to the Fort Fairfield county boy who penned and sang the song wearing the patch over one eye.
This weekend, Meg and I climbed into the car, buckled up to zip down to Bangor Maine from Aroostook County.
A pair of tickets in hand with a bar code to scan to see the Penobscot Theatre live stage production of Don't Dress For Dinner.  Sitting close to the front in the center aisle section for one very good live community production perch. And after the show on the stage up the hill, then wandering down to Paddy Murphy's Pub at the bottom. Study the menu and time for a bite to eat in Bangor Maine.
In a few past play runs to see a show in Bangor from Aroostook County I rented a 15 passenger van from Wayne's Auto for the day. To take the local community actors group down to the Penobscot Theatre. The popular place to eat for that crew was the Happy China Buffet. It was not eat and run and when the crab legs make their entry, other delicacies were all expertly predicted by regulars who knew the routine.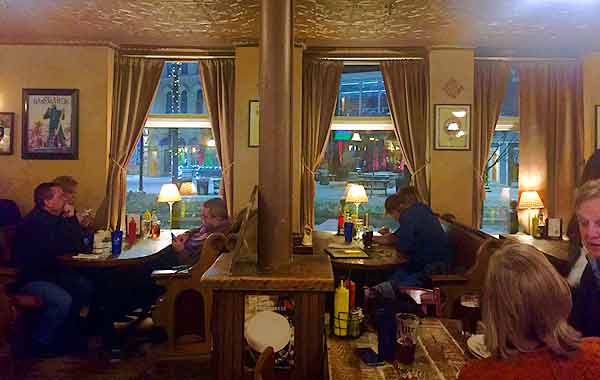 Both of us lived in the Bangor Maine area when attending the University of Maine at the Orono campus.
We can share stories of renting an apartment at University Park even though each of us lived there at different times in our life. That's why we both enjoy the quick trip to Bangor Maine from Aroostook County that is always fun. Done around the year when the schedule can be opened up to nail it down for let's head to Bangor Maine.
Pretty familiar surroundings and my brother Stephen lived in Bangor Maine most of his life… born there, died there.
He was a big advocate of affordable housing in the Bangor Maine area working at Penquis CAP. Even if  your family's combined household income is pretty low, as a kid Stephen thought you should still be proud of where you live. Growing up in a housing project does not have to be a blighted or negative experience Stephen reasoned your surroundings treated with respect.
Miss you Stephen B Mooers. He played the keyboard ivories and sang in lots of local Bangor Maine bands as a part time nights and weekends gig. His most popular Bangor music band probably "Bootleg" that played at local bottle clubs.
Bootleg  opened for Jerry Lee Lewis as the warm up act when "The Killer" came to the Bangor Auditorium to entertain the music crowd who could get a limited ticket.
Brother Stephen's music therapy as much for him as the patrons. He reminded the dancers I know some of you are going through hard times, it's been a bitch of a week. But forget all that, leave it at the door. And for the next two or three hours let's just shimmy and shake.
The instructions for everyone to fun laughing, dancing, slurping some favorite concoction. And more importantly don't forget to tip your waitress who is working her heart out to make sure like the band members that you have one memorable time.
If you have never lived in Maine during the winter it is so easy to think the worse about what it must be like.
Tall snow banks, howling winds, all alone house bound and hibernation come to mind. When nothing could be further from the truth. Maine winters are a time when we get outside to play in the white stuff. Just like the other three seasons.
We dress to match the temperatures of the day in Maine. More or less layers happens. The highway department does a cracker jack job of clearing the roads. Big side wings direct the snow back to pave the way for moving around on open roads. No fear of being stranded, no reason not to take a quick trip south to see how the rest of the state lives. The trip to Bangor Maine from Aroostook County because of I-95 is very doable and affordable.
Stayed overnight at the Bangor Airport. No, not stranded sleeping on the terminal  floor homeless many miles from home and hungry.
But not climbing on a silver bird to go anywhere this time either. The Priceline price for Bangor Maine lodging picked just right for the Four Points Sheraton. Bangor International Airport is not that busy with round the clock flights where it will keep you awake at night.
Walked around a few stores Sunday, hit Home Depot to dream about household projects and get some ideas.
Spent way way too long in lighting. Too many choices when used to a small town Maine hardware store for selection of just a couple that work just fine.
Picked up a few children clothes items for the precious grand daughter who just turned one today and lives local where she is enjoyed so much.
Hit BAM for perusing books and magazines. Those usually help inspire the next Me In Maine blog topic in some shape or form.
The trip to Bangor Maine from Aroostook County via Interstate 95 is quick and painless.
Cruise control for 75 mph and sit back, turn up the tunes and zing. Next thing you know you are on top of the Hogan Road exit heading down from Aroostook County.
Where to eat, what to sample, washed  the car, jiffy lube changed the oil and fueled up to head back to "The County". The one day down, next day back mini-vacations are great for a change up of the setting during a Maine winter.
The Maine high school vacation week is approaching. The Maine basketball, hockey tournaments for the eastern, western, state title are on the line. No doubt will be making another abbreviated get away trip to Bangor Maine for a short return visit to hoot and holler for the home town team.
When we were kids, the potato picking money earned out in the Aroostook County farm fields was ear marked for the school clothes.
The ones needed to look neat and clean and to be warm heading into a Maine winter. You take better care of what you buy with your own money. You stretch those hard earned dollars too. We always bought locally whatever there was for selection. But when a store did not have something locally, it was fair game to get the best deal you could to find. To maximize your potato picking money down in the woo hoo big city of Bangor Maine.
The return from Bangor Maine on Interstate 95 as dark sets in and the row of red tail lights ahead are folks that just did the same down and back trek.
Who are now weaving their way north too from Penobscot up into Aroostook County. Less than a two hour trip from Bangor to Houlton and add on another pair of 60 minutes driving segments if you go all the way to the top, the Crown of Maine.
The St John River Valley is two more hours up US Rt 1 or the back way RT 11. Heading up Interstate 95 after a trip out of state or just down to Bangor or Portland, there is nothing like seeing one sign. It always makes me smile and sign in relief.
The exit for Benedicta Maine which only got one northbound signals you are in Aroostook County Chummy.
Like the Hotel California, you can enter but never get on I-95 in Benedicta Maine to leave. Check in any time you like but you can never leave. Or just not without hitting RT 11 further north and then boomerang ricochet maneuver using the Sherman south bound exit to get back on I-95. Benedicta Maine, still waiting for the south bound exit to get constructed when the DOT highway folks finally allocate the funds to do the job.
When you see the Benedicta Maine interstate sign, you know you are back in "The County" of Aroostook. Maine, come for a day and end up staying a life time. It happens easily when she grabs you by the heartstrings and just won't let go in her playful four seasons ways. Maine is big, beautiful.
Lots of Canadian vehicle plates on the cars and trucks you see on the highways of Maine.
We are related to most of them if you took the time to go back through the family DNA. Plenty of snow sled trailers being pulled up and down the Maine pike too. Come on up, lots of snow to play in. It's a winter wonderland play ground.
Traveling to Bangor Maine from Aroostook County! We do it a lot! Maine is Vacationland. Southern New England, Portland and Lewiston area snowmobilers flock to Northern Maine when the conditions are right to hit the ITS trails. Ice fishing in Northern Maine is big just like downhill and cross country skiing is too. Thank you for following our blog posts on living in Maine.
I'm Maine REALTOR Andrew Mooers, ME Broker
207.532.6573 |  info@mooersrealty.com  | 
MOOERS REALTY 69 North ST Houlton Maine 04730 USA