In 1963 My Dad And Mom Bought Their 1st White Tractor Trailer Truck
Then Kept Adding To The Fleet That Hauled Their Own Home Grown Potatoes And Brokering Other Farmer's Spuds To Truck Them To Boston, Hartford, New York City. Then Returning To Wakefield Or Medford MA For A Back Haul Of Paper Products… French Fry Cartons For Potato Service In Presque Isle, The Packaging Used Up in Madawaska For Jade East Cologne. Here Are Some Of The Fleet, A Couple Drivers Spotlighted That Just Turned Up Hidden Away At The Farm. Estle McPherson And Dean Lynds I Think Are The Two Of Many Prem Pak Had Up In The Cab And Behind The Wheel. All Powered By Cummins Diesel Engines. Most Trailer Great Dane Models Bought New. To Haul The Trailer Truck Loads.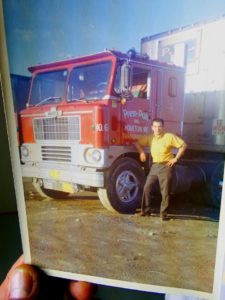 Elmer Snell And Al Packard And Gerald Prosser Lifted The Cab Or Opened The Hood Of "Ole Elmer, Dopey" That Kept Everything Running Like A Top! Who Did The Oil Changing, The Wrench Turning Mechanics For The Fleet. Doug McNutt, Albert Fitz, Jeff Bossie, Jack Graham, Roger Oliver, Carl Cottle, Sandy Graham, Reuben Albert. Joey Nadeau, Charlie McAtee, Wayne Drake, Sonny And Bobbie Howe Are Just A Few Of The Drivers That Come To Mind. Fee Free To Add More.
Jack Graham With His Super Sized Blue Bottle Of Malox Under His Arm Drove The White International Transtar With The 903 Power Plant. My Favorite Driver Was Elwood Kelley Who Drove The 335 Powered Peterbilt And Took Me On Many Trips Riding Shot Gun To The City As A Little Kid Who Helped Unload In The Produce Markets On D Street, Hunt's Point, Etc. Trading A Left Over Bag Of Russets Or Whatever Variety Of Spuds For Fresh Florida Oranges, Grapefruit Or Melons. Then Eating Whole Fried Clams At The Belle Air Diner On RT 128 Leaving Boston. Kelly Loved Kids And Was An Expert Driver. The Big Farm Barn Worked Excellent For A Truck Terminal For The Ten Trucks, More Trailers.
Alison Britton The Sign Painter Before Larry McCarthy Took Over Lettering New Trucks Or One's Fixed After A Wreck Hitting Deer, Trees, Etc. Prem Pak Had ICC Transportation Rights Purchased When McCauley's Express In MA Was Bought Out Before Deregulation Of Transportation Happened. https://meinmaine.com/…/dopey-was-a-single-screw-with-t…/
The Old Veteran Drivers Did Not Have Automatic Transmissions Or Electric Fifth Wheel Lock Switches. No Wireless Cells, No Texting "I Just Got Pulled Over By Smokey Bear Whipping Out His Portable Weigh Scales." As He Climbed The Ladder, Asking For The Log Book. No No… Truckers Used To Drop The Coins With The Correct Change Standing Out in The Cold Using Pay Phone Land Lines. Cupping One Ear While Pressing The Dial Number Phone Tightly To The Other Ear. Trying To Hear Without Outside Wind Blowing, Other Trucks And Cars Zipping By On Lines Where You Got In The Habit Of Shouting When Making Long Distance, Person To Person Calls.
Had No XM But Lots Of Bootleg 8 Tracks, CB Radios With Antennae Whips On Both West Coast Mirrors With A Line Hooked To A Linear 75 Or More Watt Amp To Boost The "Breaker Breaker 19 Got Your Ears On?" Channel Signal For The Best Chatter Reception.
Chain Drive Wallets Tethered To Your Belt Loops With The Leather Held Together By The Big Silver Buckle. Heavy Boots And A Heavy Club To Hit All 18 Tires To Make Sure They Did Not Go Square Many Mile Markers Down The Road. A Flat On The Inside And The Wrong Size Spares In The Trailer Rack … Oh Oh. Better Call John R To Ask What Do You Want Me To Do Now. Overweight In CT Where They Throw You In Jail. Yikes. Overdrive Magazines, Others Quite Exotic Under Tucked Under The Sleeper Bunk Mattress.
Fans Keeping The Fog Off The Inside Of The Windshield. Heaters Not So Hot Blowing Ice Cold Air. So Wearing Long Underwear And Dressing Warm A Must. Cussing At Air Brakes That Froze Up. Wipers That Won't When You Need Them Most. During A Snow White Out As You Creep Along And Are Gonna Miss Another Birthday, A Holiday When Told To Turn Around, To Fetch Another Back Haul With Only Five Stops. Your Truck The Home Away From Home.
And Hey, I'm Broke Down With A Full Load On The Side Of The Road South Of Dallas. You Needed Tow Trucks Lowering The Big Hook With Jimmy Ritchie's Help At Houlton Truck Garage. Using A Dead Man Block And Tackle To Pull You Back Onto Your Feet Or Out Of The Ditch Hole. Not To Just Open Up A Lap Top To Keep Them Running On All Cylinders And Pointed The Right Direction Down The Highway.
Trucks Hauling Freight. They Unlike The Railroad Could Give Overnight Service For Just In Time Inventory Control. I Hear Truckers Get Blamed For All The Accidents But Know First Hand They Go Off The Road, Avoid At All Costs Hitting The Car With The Texting Or Hammered Driver Behind The Wheel Causing The Costly Wrecks And Canceled Carrier Insurance.
You Can Not Stop 73,280 or 100,000 Pounds On A Dime When Driving An 18 Wheeler On Black Ice Good Buddy.
That's A Big 10-4, We're Gone Bye Bye…. Cue Dave Dudley, There Were Quite A Few Entertainers Mining That Behind The Wheel Pulling The Air Horn Musical Theme. He Was One Of The Country And Western Truck Driving Hit Makers. Tap The Link  https://www.youtube.com/watch?v=4-kUyV76X-g For Some Tuneage That Ties Into This Blog Post Theme. Maine Trucking, As A Little Kid It Was Need To Travel In The Rigs And See The Bright Lights, Big City. Transportation Is The Second Largest Industry In Our Country. Don't Believe It? Shut Off A City With Truck Deliveries For A Few Days And Hear The Whine, Feel The Pain.
I'm Maine REALTOR Andrew Mooers, ME Broker
207.532.6573 | info@mooersrealty.com | 
MOOERS REALTY 69 North Street Houlton Maine 04730 USA