Things To Do For Fun In Maine | Climb, Hike Mt Katahdin is one suggestion.
Maine has elevations, nothing like the Continental Divide but mountains none the less. The most famous Maine mountain is Mount Katahdin, the cornerstone of Baxter State Park. Mount "K" is a recreational visit that many try to experience at least a couple times each year. The yearly tradition of hiking up Mount Katahdin or one of the many smaller elevations surrounding it is a healthy habit. To get high and feel above the noise of everyday living. Being just shy of a mile in the air can clear your head like no other experience.
Mt Katahdin is 5267′ tall.
The Penobscot Indians dubbed the rock formation as "Katahdin" which means "greatest mountain". Maine Governor Percival Baxter spent his entire life adding to the park land holdings to preserve the special place for generations to come. To quote Baxter's own wise words "Man is born to die. His works are short lived. Buildings crumble, monuments decay and wealth vanishes, but Katahdin in all its glory forever shall remain the mountain of the people of Maine." Naturalist Henry David Thoreau wrote "What a place to live, die, be buried in. There certainly men would live forever, and laugh at death and the grave".
The number of hikers on the trails of Baxter State Park are limited to protect the wildlife and delicate nature of the sanctuary created by the late Maine governor. The mountain visits increased remarkably once the Appalachian Trail completed in 1937. Mount "K" is the northern most end of the road for the AT trail system. Visit the Baxter State Park website to reserve your spot on the mountain, to learn about highly sought after camping overnight options.
The famous Baxter State Park climbers ranged from Percival the man with a dream hatched long before becoming Governor in 1921 – 1925.
Theodore Roosevelt, Henry David Thoreau made the Mountain Katahdin climb too. Surveyors Charles Turner Jr. and Zachary Adley with a party of just shy of a dozen studied the Maine peak back in 1804. Percival Proctor Baxter has the vision that the 202,064 acre park should forever be kept in its natural state. Over 45 years of fund-raising and efforts in the legislature help to realize Baxter's life long dream. Baxter a Portland native visited this Katahdin region in his youth and entered the legislature at the age of 26. He envisioned Maine as one big state, to be kept one entity to protect and preserve. And to move forward together promoting the rich heritage and natural resources Maine is blessed with in her vast size. Parts of the park are set aside for forestry research, some tracts open for hunting, only a few regions allow boats, aircraft like Webster and Matagamon Lakes.
When you hike Katahdin, the trail incline and vegetation change. The timberline ranges from 3500 to 3800 feet and peters out in the tableland area of Maine's highest mountain. Where fog mist rolls in to hide the trail you just traversed. To deliver you to a spiritual place to sort your thoughts, to reflect on your life and feel very humble. Reduced to a very small but humble spec that gets it. The journey through life is so short and the hiker is reminded make every moment count. Simplify, reduce and stay grounded works best to see what really matters and reward yourself  and others that we share the spinning blue and green marble third from the Sun.
Mt Katahdin is horseshoe shape and faces the sobering north east to keep your attention. There are nine trails to the summit and five separate peaks. The toughest trail is the "Knife's Edge" which joins the Baxter and Pamola Peaks.
 I always liked taking the Abol Trail, 3.8 miles long that gets you to the top quickest.
Abol is the steepest. Knife's Edge is a 1.1 mile narrow ridge trail. You look down each side of a sharp granite steep drop off as you chose your steps carefully. Barely more than a few feet wide, the elevation sheers away hundreds of feet from the skinny trail that leaves nothing to waste as you trek across it in the strong breeze and incredible scenery beyond and below you.
The longest Mount Katahdin trail is Hunt and you access it from the back of the mountain. The over 5 miles of Hunt Trail crosses lots of boulders, streams, and you witness waterfalls that are seen, heard, felt. You will not forget the hike on trails at Baxter State Park. The experience does not dim in your head and heart. Cathedral Trail is 1.7 miles long, is steep and has its share of large rocks to climb up, over, around to complete the hike. You should go up not down Cathedral to tackle and tame the 3 large granite rock Earth apples.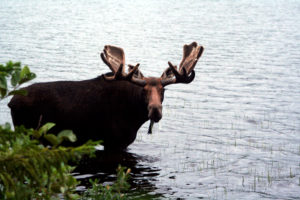 The trails of Katahdin are in alphabetical order Abol, 3.8 miles, Cathedral 1.7 miles, Chimney Pond, 3.3 miles, Dudley, 1.3 miles, Hamlin Ridge, 1.5 miles, Helen Taylor 3.2 miles, Hunt, 5.2 miles, Knife's Edge. 1.1 miles, Saddle, 2.2 miles. The 5 separate peaks are Baxter (5267 ft), Hamlin (4751 ft), Howe (4612 ft) No. Howe and So.Howe (4734), Pamola (4912 ft), South (5260 ft).
Study the map, plan the trip to Baxter State Park! Percival Baxter donated the land for the state park with the stipulation it be kept forever wild. More on the history of Baxter and his quest to give Maine a lasting gift that would survive time. Picnic, bike, hike, paddle, fish and climb, camp at Baxter State Park.
 Wildlife you see at Baxter State Park include about 100 black bear, moose, coyote, white-tailed deer, red fox, beaver, red squirrel, vole, mole, mink, snow shoe hare, marten, weasel, muskrat, woodchuck, otter, porcupine, along with other rodents. The Katahdin region was logged from the mid 1800's until 1965 when the last of the retained logging rights in the deeds conveying the land to Baxter extinguished. The early loggers chopped down pine, then spruce, then pulpwood for paper making and other uses. The only land sections that did not get lumbered completely were Howe Brook and also the Klondike Bowl. The early timber cut from the lands around Baxter State Park, Mt Katahdin were transported by waterways. Dams were built to help move the logs to Bangor sawmills to the south. On the Allagash and St John Rivers that original flowed north until dams were made to change that. To help move things southerly to hit the Penobscot River's East Branch used as a highway for sawn fallen, delimbed logs.
You can stay longer than an early day in and quick trip up and down before nightfall. That is how locals can access our beloved Mt Katahdin and other Baxter State Park peaks and trails. Camp sites are hotly sought after and like waiting for a Black Friday special at a store with closed front doors, it is competitive for the dash to secure a limited number of locations to spend the night, more time in the park. There are two kinds of bedrocks in Baxter State Park. Light gray or pink Katahdin granite mostly found in the southern sections. The other stone color is charcoal gray found in northern sections around Traveler Mountain which was once a volcano.
The glacier period flatten some areas to create basins and push, piled up rocks in other sections of Baxter State Park. To make dramatic settings for your hike. For photo taking too so bring something to capture the imagery of this forever wild setting. Winter park hikes with a competent leader are allowed if the Park director deems it is safe with at least four week's notice of your intent to visit a white Baxter Park. Bring your snow shoes, cross country skis, your technical climbing gear. Baxter State Park is rarely a once and done visit for most. You return to unplug and recharge, to gain wisdom, to experience an inner joy near that lives near your soul. She is that magical, so well preserved and sacredly protected because of the experience you pass on to your loved ones. Thank you Percival Baxter. Everyone that protects her magic.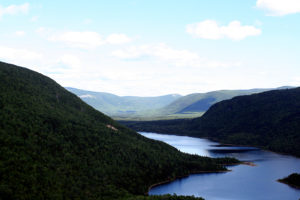 Should Baxter State Park move up to National status? We've blogged about Baxter State Park / Mount Katahdin before. Over 87,000 acres to the east of Baxter is a monument. Weigh in on what the Baxter State Park director says about the monument topic.
Regardless of what the maps or media create for a designations, Baxter State Park is worth protecting, should be visited by all ages.
It is not just Mt Katahdin that should take up the spotlight either at Baxter. Little 1400′ high Horse Mountain is an ideal hike to get youngest or slightly feeble a dose of hiking under their belt. To create the burning desire for more vacation trips to sample the woods, wildlife, waterfront. Start your collection burning calories and snapping imagery and video in full color. More on the long list of Maine mountains. Bring your trail mix, extra water tucked into your zipped fanny pack. The knapsack or camel pack and something water resistant, warm for adding or removing hiking layers on the up and down climb of Mt Katahdin at Baxter State Park.
I'm Maine REALTOR Andrew Mooers, ME Broker
207.532.6573 |  info@mooersrealty.com  | 
MOOERS REALTY 69 North Street Houlton Maine 04730 USA