The expression about using using honey, sugar not vinegar.
Something sweet to draw attention. Like leading a horse to water. But to attract the bees, whatever you are after.
To turn on the marketing tractor beam.
For the we need your help put out on the APB, on the hailing frequency. For whatever you are peddling. Using the high voice and shifting into the "Here Kitty Kitty" mode. Whenever you need a path beat to your door.
Maine farm land needs pollinators besides fertile built up soil, wise planting techniques to avoid any  erosion.
And don't just think busy bees please. Butterflies with their touch down and lift off flit. Those help Mother Nature in the court and spark. Spreading the pollination lovey dovey around the plowed, tilled, cultivated planted seed beds of Maine farm land.
So you are a Maine micro farmer, a medium sized or large acreage producer, what to set up for wild flower sections to attract the pollinators?
If you could interview a bee that I bet could be very verbal if you knew the lingo.
But knowing butterflies would be harder to interrogate and just come off like rabbits as a quiet bunch. What would you learn about color, fragrance, texture preferences? What are the best flower pollinators for your Maine farm land or gardens to boost the attraction?
Remembering hearing all those news reports about less bees are around and why is that? So better bait needed to get the pollinators the mission. To visit your back yard is the tall order, what's needed.
To spread the word on the buzzing grapevine about how simply luscious these GPS coordinates are.
How much low hanging fruit easy your Maine farm land or garden is to collect the honey nectar of the Gods.
Spreading the pollen in the process of rubbing up against all those delicate flower parts you and I learned about in sixth grade science.
Or from our Grandmother bent over and weeding out one of many flower beds on the Maine farmstead.
Eight out of ten honey bees might might prefer blue hues.
Bumble bees yellow, give me buttercup or good old mustard. Humming birds pick high voltage greens or reds. Those might be the findings. If you could find a translator. But what you plant, will it survive, regenerate and help populate a hillside next to your best fields?
Will it become invasive and you the Maine farmer will regret unleashing the seed cover?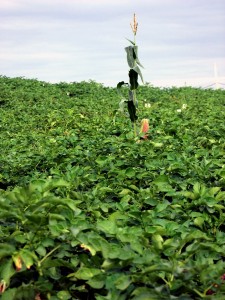 Is it like birds that drop the fertilizer from other fields creating "weed seed" that is counter productive? What is the best bang for the buck. To hold down the bottom line costs.  Hmmmm.
What does the state use on the highways, for soil erosion control and that is low cost? Industrial applications for more than tourist attraction eye candy. But more emphasis that is all over pollination of the Maine farm land crops.
That being the bull's eye target red series of circles to aim for squinting, holding your mouth just right. Here is another article on attracting butterflies, hummingbirds and other pollinators for your garden or Maine farm land field.
From your experience, what works best that seems to make your flowers gardens, fruit orchards or vegetable fields like an airport for bees, butterflies, hummingbirds?
Lots of Latin names attached to the pollination attraction flowers fun and games.
Had one lady over the weekend mention Devil's Rocket as one she would bet on for baiting the pollinators.
If you plant it they will come thinking. But knowing if it is not growing here now and established, will it flourish or extinguish quickly.
Be a flash in the pan pollinator one night stand Johnny One Time and then poof, gone?
I'm Maine REALTOR Andrew Mooers, ME Broker
207.532.6573