Maine is a jewel with many brilliant facets.
What sparkles most is different for everyone that ventures into the great state of Maine. But it is way way more than the fresh air, clean water setting. The people who you meet, that greet and serve you if a tourist are what hit you deepest. They are friendly, helpful, warm and genuine.
But if you were thinking of a last minute trip to Portland Maine, did not have a ton of time, visiting the Old Port section would be a good idea.
As one travel suggestion. Options for the Old Port walk to night life.
Two very nice places to stay in this region to consider for walk don't drive would be the Portland Regency Hotel & Spa, the Portland Harbor Hotel. The Holiday Inn By The Bay is another close to everything in the Old Port recreational travel vacation option.
There is nothing like being right in the heart of any Maine all natural setting. To squeeze the most take away from it. To experience it best.
To hang around. Try out and visit the quaint one of a kind shops, the neat watering holes. The cobble stone streets and granite buildings all adding to the historic jaunt. Nothing works like a Maine vacation with friendly people, no over crowding or pushing, shoving. Exciting the senses with not available anywhere else venues open for business, your enjoyment.
Taking it all in. As you ply up and down, criss cross the hill side slanted narrow streets. To discover what is offered in Portland Maine's Old Port Region. Where every business works hard to stand out. To make you darken their doors.
The Old Port thrives with unique shops, diverse restaurants, a working, hustling, bustling fishing, boating waterfront.
One dining option to remember, and there are so many, is to book reservations for dinner at Grace Restaurant at 15 Chestnut Street in Portland Maine. Housed in a former church, the wide open setting adds to whatever you order off the locally sourced Maine cuisine.
Along the shores of Casco Bay in Portland Maine.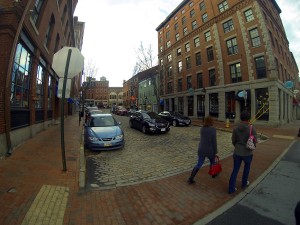 For breakfast, it is hard to beat an authentic Portland Maine venue called the Porthole Restaurant and Pub.
As you walk along the Portland Maine Old Port harbor. Into the heart of the fishing industry, ferry, cruise and fishing boat traffic. The leaning, colorful lobster trap stacks. Mingling, ticking the senses with salty air and other smells generated around the waterfront.
The blue green water increases the sensory volume inside your heart and head. Ramps up the awareness meter of what is important. Of the "how is life going reality check". Dialing into the signal as you dine on the open deck. Starting your day front row. With the Maine sea harbor sunrise unfolding, now playing in front of you.
An omelet made with crab, lobster and a slew of multi colored ingredients to pick from as you wind yourself up. Fuel the body.
Making it anything but mass produced, fast food. No not that. The decor feels original, because it is.
Real Maine.
No gimmicks, smoke, mirrors, bait and switch shell games.
The Maine cooks wearing a variety of winter hats, there is laughter. Giving you the signal loud and clear. This place would be a fun one to work at each day or night shift.
To serve hungry folks, old souls. Meandering, mingling, loitering and hating to leave. Around the Old Port region of Portland Maine. That is their mission in life for now. And that leads to many return visits from those that can not stay away.
Maine, we have lots of blog posts on the deep interior, northern regions, the crystal clean waterways, uninhabited wooded townships with no official names.
Off the beaten Maine pathways that are not the destination of many and a big secret.
And we're just hunt and peck, adding imagery to the trying to increase the list. Of the many reasons to get to Maine anytime you can squeeze me in. To explain why we live here. Think that you should to. To unplug, recharge and witness first hand. That Maine is the way life should be.
I'm Maine REALTOR Andrew Mooers, ME
MOOERS REALTY 69 North ST Houlton ME 04730 USA