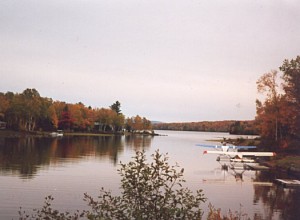 Maine people, all people are all different.
I know a Maine soil tester that designs septic systems named Bill Hersey from Caribou Maine who's business card says "Like People, Soils Are Different". And those differences are what make each day special or not so much fun depending on who you bump in to, rub shoulders with living in Maine.
But when the population is lower, like 11 people per square mile, suddenly whether a person is a happy camper or a habitual whiner matters less. Because we have space, elbow room. Is it that way where you live now?
And with no people wall to wall, or traffic, or man made noise, living in Maine becomes scenery, wildlife, unspoiled lake and woodland, farms for neighbors. No freeways, no carrying a taser and worrying about your personal safety living in Maine.
Heck, we don't need to lock our Maine doors and the front entry is secured by a standard kitchen butter knife wedged sideways to protect from the wind blowing it open, not to keep burglars, intruders out.
In Maine, we are blessed with clean lakes, ponds, rivers and have many of them to enjoy water outings on. Swimming, fishing, relaxing in a boat, paddling a kayak. Or roaming the woods trails, hiking up Baxter State Park and Mt Katahdin. Or taking in a sunrise on Cadillac Mountain, treking down the Allagash Wilderness Waterway. Man has not messed up Maine. And Mainers protect their resources knowing we are lucky, very fortunate to live here.
Maine, less people, lots of land to go with your lower priced house, home on the lake, hobby or working farm. Living here is fun, four season, the way life should be. Maine, always your best case scenario.
I'm Maine REALTOR Andrew Mooers
207.532.6573
info@mooersrealty.com.