One in awhile, at least once a year, a vacation that you have earned from working hard and budgeting for is a good thing. I run into folks that brag about how they have not taken a vacation in seven years or more. Why? I love my job, am passionate about what I do and grew up on a farm knowing chores, responsibilities, discipline to get the work done day in and day out. But a vacation was something we did as a family in Maine.
     Trips to Mt Katahdin camping and hiking, to the Maine coast to rent a place on the water and then lobster / clam boil with an open fire. My passion even thought I am in Maine, is to in the dead of winter, round up the four kids and head to somewhere with aqua blue water.  I raised my kids as a single full time dad and the most memorable cruise was the first one with the four kids and I on the smoke free Paradise which was a new Carnival ship. Everything was new and exciting. Fun in the sun, taking in three islands, collecting t-shirts, snorkeling in our own private boat with a native that showed us the island from a local's perspective. Here's a 6800 + video view cruise trip from Portland Maine to Miami to blue green water.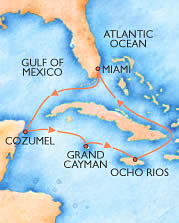 Have you taken your yearly vacation yet? 
Maine..it's calling your name. Hear it?
Get here as quick as you can.